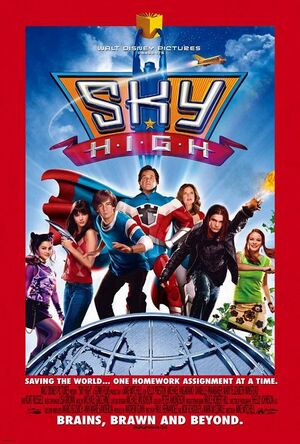 | | | |
| --- | --- | --- |
| " | Saving the world... one homework assignment at a time. | " |
Details
Sky High was released on July 29, 2005, by Walt Disney Picture, Inc. It was written by Paul Hernandez and Robert Schooley.
Synopsis
Life is hard enough when you enter high school, but it is even harder for Will Stronghold. You see, the school is Sky High, a school for young superheroes, and Will's parents are the Commander and Jet Stream, two of the greatest superheroes in the world. As if that's not hard enough, so far, Will has evidenced no super-powers at all.
What will his dad think? What will the other kids think? This is going to be a very rough freshman year!
Cast
(As appeared in the closing credits of the movie)
Will Stronghold – Michael Angarano
Steve / The Commander – Kurt Russell
Josie / Jetstream – Kelly Preston
Layla – Danielle Panabaker
News Anchor – Chris Wynne
Ron Wilson Bus Driver – Kevin Hefferman
Ethan – Dee Jay Daniels
Magenta – Kelly Vitz
Little Larry – Loren Berman
Zach – Nicholas Braun
Penny - Malika
Penny - Khadijah
Lash – Jake Sandvig
Speed – Will Harris
Gwen / Royal Pain – Mary Elizabeth Winstead
Principal Powers – Lynda Carter
Coach Boomer – Bruce Campbell
Carbon Copy Kid – Dustin Ingram
Warren Peace – Steven Strait
Nurse Spex – Cloris Leachman
Mr. Grayson / Stitches – Jim Rash
Mr. Boy – Dave Foley
Mr. Medulla – Kevin McDonald
Twin – Amy Brown
Evil Twin – Kimmy Brown
Cook – Lucille Soong
Young Commander – Zachry Rogers
Mr. Timmerman – Tom Kenny
Mrs. Timmerman – Jill Talley
Voice of Royal Pain – Patrick Warburton
Storyline
At a school in the sky where teens learn how to be superheroes, Will Stronghold (Michael Angarano) lands in a class for students who show special promise. Classmate Gwen (Mary Elizabeth Winstead) quickly cozies up to Will, but it's soon clear that she has other motives. When he learns that Gwen's mother is a villain who was defeated by his father, Steve Stronghold (Kurt Russell), Will realizes that Gwen is aiming for revenge, and he rushes to a school dance in the hope of stopping her.
Box Office
Sky High was created for an estimated US$35,000,000, and was released on July 29, 2005. It grossed $14,631,784 in the United States on its first week end, and $63,946,815 during the course of its run there. It earned a further $22 million worldwide for a cumulative gross of $86,369,815.
Soundtrack
Main article: Sky High (Soundtrack)
External Links
IMDB = https://www.imdb.com/title/tt0405325/?ref_=nv_sr_1
Wikipedia = https://en.wikipedia.org/wiki/Sky_High_(2005_film)