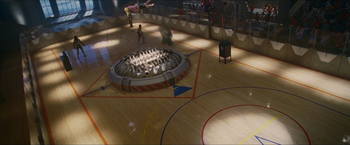 Save the Citizen is a game played by the students of Sky High, in the school gym. The game is played by one team of two players who are the "heroes" and another team of two players who are the "villains." The heroes have three minutes to immobilize the villains, and rescue a "citizen" (a manikin) who is being lowered on a rope into a giant shredder. The game is refereed by a faculty member.
The court is an elongated rectangle with a sturdy wall surrounding it. In the center is the large shredder, and scattered around the court are several everyday street items, including a dumpster, newspaper vending machines, a mail box, and a street light pole.
This is a long-standing part of Sky High, but the first freshman to ever win the game was Will Stronghold, playing for the Hero team.
Gallery