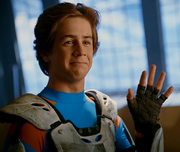 Michael Angarano is an American actor who played Will Stronghold in Sky High.
Mr. Angarano was born in Brooklyn, New York on December 3, 1987. He began his career early, being one of the finalists for the role of Anakin Skywalker in the 1999 movie, Star Wars: Episode I – The Phantom Menace.
He has appeared in many television series, most recently appearing in 1918 as Nick Pearson in the series, This is us.
External Links
IMDB = https://www.imdb.com/name/nm0029400/?ref_=nv_sr_1
Wikipedia = https://en.wikipedia.org/wiki/Michael_Angarano