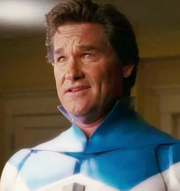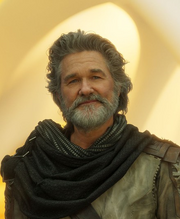 Kurt Russell is an American actress who played Steve Stronghold (The Commander) in Sky High.
Born on March 17, 1951 in Springfield, Massachusetts, his first major acting appearance was in the 1963 television series, The Travels of Jaimie McPheeters, in which he played the title character. His movie acting career skyrocketed when he signed a 10-year contract with Walt Disney, and appeared in a number of Disney movies, including The Computer Wore Tennis Shoes and The Barefoot Executive.
Later, Mr. Russell became famous for his roles in action movies, including Escape from New York, Big Trouble in Little China and Escape from L.A. Nonetheless, he has appeared in many movie, of many different genres, including Sky High.
Since that time, he has appeared in many more movie productions, most recently in the 2017 hit Marvel movie, Guardians of the Galaxy Vol. 2, in which he played Ego, the living planet.
External Links
IMDB = https://www.imdb.com/name/nm0000621/?ref_=nv_sr_1
Wikipedia = https://en.wikipedia.org/wiki/Kurt_Russell