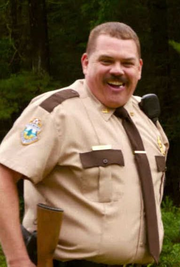 Kevin Heffernan is an American actor who played Ron Wilson in Sky High.
He was born on May 25, 1968 in West Haven, Connecticut. He attended Colgate University in Hamilton Village, New York, where he became a member of the Broken Lizard comedy group. His first movie appearance was in the 1996 comedy movie, Puddle Cruiser, but he rose to wide recognition for his playing the role of Officer Rodney Farva in the Super Trooper series of movies.
Since his appearance in Sky High, he has appeared in many movie and television productions, most recently in the 2018 movie, Super Trooper 2, where he reprised his role of Rod Farva.
External Links
IMDB = https://www.imdb.com/name/nm0373571/?ref_=nv_sr_2
Wikipedia = https://en.wikipedia.org/wiki/Kevin_Heffernan_(actor)
Community content is available under
CC-BY-SA
unless otherwise noted.